Shelby is a six year old Puggle. Her original owner was a neighbor of Catherine's who passed away. Shelby was found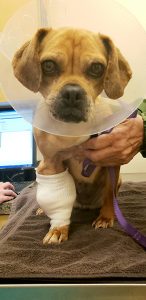 in the home, terrified, malnourished and in urgent need of medical care for a extremely large soft tissue carcinoma on her right leg. She was taken to Foothills Animal Shelter by the authorities and when Catherine found out, she went and adopted her.
Catherine is a mother, a grandmother, an artist, a poet, and a healer of broken hearts. Since 1992, she has been giving poetry and spoken word workshops, using a method she developed, that transforms and heals those who have experienced trauma. She spent three years doing weekly poetry workshops for Columbine students, after the 1999 shooting. She has spent decades bringing workshops into juvenile detention and residential treatment centers. For the past 15 years she has run Art From Ashes, a non-profit that empowers struggling youth by providing creative programs that facilitate health and hope through expression, connection and transformation.
Catherine's long history of giving back to our community would not let her leave Shelby in the shelter system. Despite Catherine's recent diagnosis of stage 3 HER2 Breast cancer and her own struggle to afford the cost of medical treatment, her heart just couldn't let another being suffer from cancer.
Lexie is lending a paw to help Shelby. The Lexie Fund has reached out to the local veterinary community and found a specialist to perform the amputation surgery that Shelby will need to save her life. The Harmony staff have happily volunteered their time to assist the surgeon and support Shelby's ongoing care. Shelby is expected to make a full recovery but will need continuing care to adjust to life on three legs.
If you would like to help Shelby or Catherine in the fight of their lives please click the donations links below. The Lexie Fund's mission is to help pets create a positive outcome from unexpected tragedy. All donations go directly to the patient's care, and we cannot do our work without the generosity of our wonderful community. Thank you for your kindness and support,
Donate to Shelby
Donate to Catherine's medical expenses